Welcome to

The Vault Storage

We are a small family owned business providing a new indoor, climate controlled facility for your storage needs. We have been business owners in other capacities serving the residents of Jackson County for over 30 years.

Doing business with us means personal service, attention to detail, and the peace of mind that comes from our locked units inside of a locked building with minimal activity. We are personally responsible for the building and all rental agreements.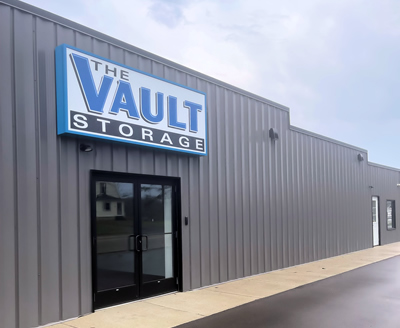 Secure Building with Easy Access
We offer 16 units of various sizes all housed in the security of one locked building. Your personally locked unit is accessed through electronically managed and security monitored main doors. Six foot wide hallways and roll up doors allow for easy management of your items.
Keep Your Investments Secure
Facility Features
Indoor climate control
24 hr security camera
Access 365 days
Secure well-lit indoor units
Convenient location/easy access
Variety of unit sizes and price
Need More Information?
Call us for availability and pricing.
Monday-Saturday: 8 AM - 5 PM
Phone: (517) 206-9075
The Vault Storage
We are conveniently located just west of US-127 on Page Avenue in Jackson, Michigan.
Call us today at (517) 206-9075.
WE ARE YOUR BEST OPTION!
Indoor Climate Controlled Storage Units